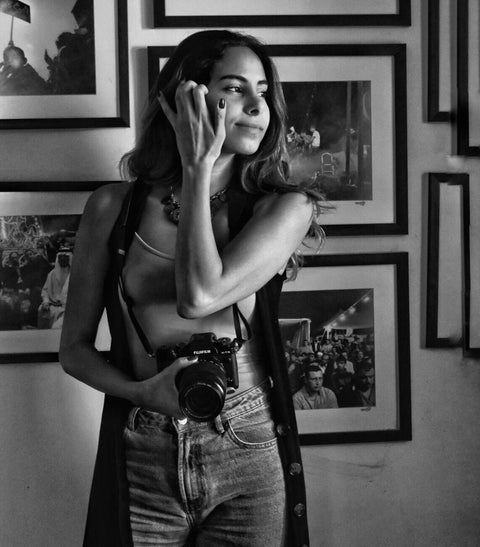 Story
Born in '91, Anita Bursheh is a Jordanian Palestinian Photographer and Producer born and raised in Amman.
Anita picked up photography as a hobby a few years back and began publishing her work on social media platforms. Anita's work drew the attention of film makers, photographers, and photography fans and was soon being commissioned to do on set photography for films, musical projects and books as well as selling prints from her collection, with over 1000 prints sold worldwide and in exhibitions.
In addition to her own camera brand 'Fujifilm'; making her their first ever Jordanian brand Ambassador and Creator.
With her work in various types of photography; her home country Jordan with a focus on Amman is where it all started; a place that has been captured photographically for the past 100 years and posed as a canvas for Anita as she documents its beauty, people, history and captivating scenes in her own unique perspective.
Anita's photography style, soulful visuals and her ability to convey the story behind each shot make her a sought-after photographer.
She has an engineering background, worked in marketing, project management and NGOs and is currently a professional photographer, content developer and TV producer.
TV Features and Exhibitions
"Embrace the beauty of diversity—don't fear differences, for they are inherently beautiful."
The World Bank Artists Exhibition
Featured Artworks
Solace
In Trance
Outique Gallery Exhibition
A 6 day photography workshop in collaboration with Save The Children for Syrian and Iraqi Refugees in Al Zaatari Refugee Camp in Jordan
Introducing emotions and what they represent - how can they be captured on camera
A group photo on the last day of our workshop